Return to Headlines
Thank You and Farewell to Deputy Becker!
Join us in saying "Thank you" and "Farewell" to Deputy Becker...


School Resource Officer Deputy Jonathan R. Becker recently announced his intentions to begin a new role with the Saratoga County Sheriff's Department as an Investigator after five years with the district. Deputy Becker was established as the lead resource officer in the district and an integral part of the district's safety team. He went above and beyond his school day duties and implemented several initiatives in the district including a Defensive Tactics Course, Bleeding Control Kits (donation and trainings), Senior Send-Off Parades and a Logo Design Contest for the SRO Program.
"Over the last five years, I have felt responsible for every student like they were my own children. No matter the situation, I have always had their best interests in mind. My experience and relationships here drove me to always give 110% percent with every task and to make sure everyone was always as safe as possible," indicated Deputy Becker. Further, "To date, my position as the SRO for the Ballston Spa Central School District has been the most rewarding portion of my career and I can't thank you all enough for this".
Deputy Becker began his career in Emergency Services in 2001 and later joined the Police Force in the Village of Fort Plain. In 2010 he transferred to The City of Gloversville Police Department where he worked as a Patrolman. In Gloversville, he was involved with community policing as well as working with the Gloversville Enlarged School District. He also was a member of the Emergency Response Team (SWAT) for several years. In late 2016 he joined the elite ranks of the Saratoga County Sheriff's Office. He then served as a School Resource Officer for the Ballston Spa CSD from 2018-2023. He recently moved to the Town of Malta with his wife and two sons, who attend Ballston Spa Schools.
The school district students, staff, and parents, extend a big thank you to Deputy Becker for his service and commitment to the well-being of everyone in our school community. Best wishes for the very best in your new position! The district recently announced that Saratoga County Deputy Pedro Garcia was selected to be the next SRO for the Middle/High Schools. He has started to meet with staff and students in the district and will begin in the schools the second week in February.
View a slideshow HERE.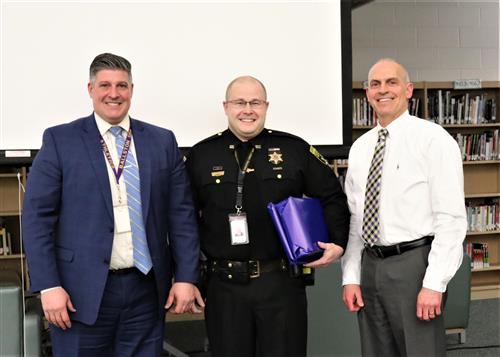 Deputy Becker receives a big "Thank You" at BOE Meeting